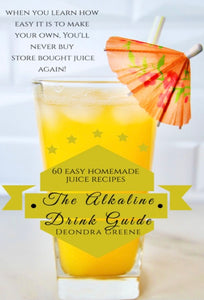 The Alkaline Drink guide is Alkaline Vegan Mommy's 5th alkaline recipe book.  The drink guide is to help transition families from the processed juices available in markets and grocery stores.  These drinks do not contain any preservatives, dyes, high fructose corn syrup or unnatural flavors. They are made fresh with real fruits and veggies.  This book includes blended and juiced drinks, smoothies, hot drinks and teas.  Best of all, the recipes are really easy and quick to prepare. With 60 healthy drink options, this book is sure to help you make better choices when it comes to what you drink.
This is a paper back book. The interior pages are printed on glossy paper.
BOOKS PRINT 3 TO 5 BUSINESS DAYS AFTER PURCHASE.  BOOKS SHIP IMMEDIATELY AFTER PRINTING.  ONCE YOUR BOOK IS SHIPPED YOU WILL RECEIVE AN EMAIL CONFIRMATION WITH TRACKING NUMBER. 
production facilities are experiencing delays due to COVID-19 closures and travel restrictions around the world. At this time, we're asking that you allow an additional 5-10 days for printing and shipping. Additionally, please check with your carrier of choice to verify your location can receive deliveries. In some countries, some deliveries may no longer be possible.