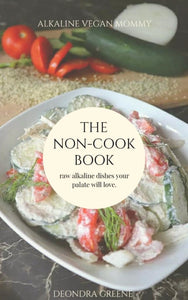 Alkaline Vegan Mommy's Non-Cookbook has over 60 raw alkaline recipes. This book is for those who are in need of raw recipes for optimal health. It Includes breakfast, lunch, dinner, snack and drink recipes. Every recipe is made using alkaline foods from Dr. Sebi's nutritional guide.
BOOKS PRINT 3 TO 5 BUSINESS DAYS AFTER PURCHASE.  BOOKS SHIP IMMEDIATELY AFTER PRINTING.  ONCE YOUR BOOK IS SHIPPED YOU WILL RECEIVE AN EMAIL CONFIRMATION WITH TRACKING NUMBER. 
production facilities are experiencing delays due to COVID-19 closures and travel restrictions around the world. At this time, we're asking that you allow an additional 5-10 days for printing and shipping. Additionally, please check with your carrier of choice to verify your location can receive deliveries. In some countries, some deliveries may no longer be possible.