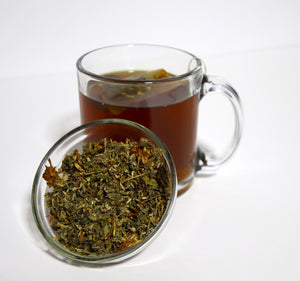 This herbal blend of Damiana, Red Clover, Red Raspberry Leaf and Nettle is a powerful combination of herbs for women's health. Each herb contributes to the regulation of  hormones and  reproductive system.  Tone the uterus, ease menstrual cramps, prevent vaginitis and UTI's, shrink fibroids and uterine cysts, helps with menopause symptoms and anemia.
This herbal blend is not to be use during pregnancy. It's safe for breastfeeding mothers, very beneficial before and after pregnancy to increase fertility and after delivery to heal the uterus and prevent postpartum hemorrhaging. 
This fertility blend incudes a thirty day supply of pre-portioned herbs in organic, non-bleached, biodegradable tea bags. Each blend includes instruction on use. 
Please allow 3 to 5 business days for shipping
We recommend that you consult with a qualified healthcare practitioner before using herbal products, particularly if you are pregnant, nursing, or on any medications. For educational purposes only. This information has not been evaluated by the Food and Drug Administration.